Summary
We are very close to a peak in UK policy rates.
House prices have support at current levels, but over the medium term price growth is expected to be lower.
The stock of homes for purchase and for rent have increased but is still below historical average.
Higher rates have led to investors putting up steadily increasing deposits to secure properties.
Regulatory constraints are leading to higher rents.
The key data point to watch is the monetary policy rate where the 5% mark can signal more or less volatility.
Businesses in the real estate space should continue to look to technology to cut costs or boost revenues. 
Landlords, home owners, renters and, potential home owners in the UK are all scratching their heads trying to figure out whats next. Recent market developments can make one feel a bit queasy as markets have, in roller coaster style, moved fairly quickly in the wrong direction. Interest rates, energy costs, food costs, and utility bills have all increased, putting an extraordinary strain on the average household budget. In addition, the cost of public services have gone up simultaneously with the tax burden. As consumers try to find solutions for the future, how markets evolve over the course of the coming year is critical.
In order to help our customers respond to recent market forces, we had one-on-one chat with David Fell - the senior research analyst at Hamptons, an estate agent with over 150 years experience in real estate markets in the UK. Hamptons has over 90 branches in the UK, handles more 15,000 real estate transaction per year, and are involved in more than £41 billion worth of real estate deals across the globe. From their vantage point, Hamptons will outline how they see markets evolving.
While we don't necessarily think that house prices will fall this year, higher mortgage rates than we've become accustomed to will mean slower price growth in the medium term.

— David Fell - Hamptons
The Interview
Question 1: David, tell us about your background and the work you do at Hamptons.
My background is in housebuilding and analytics, and I'm part of the Hamptons' research team. Fundamentally it's our job to keep Hamptons' clients briefed on their market – whether they're a homeowner, tenant, developer or investor - and where we think it's heading.
Question 2: Where do you see interest rates or mortgage rates going in the near term?
We're probably pretty close to the base rate peaking, which is likely to happen either at the next Monetary Policy Meeting in February or one after. Mortgage rates on the other hand are already likely to have passed their peak. Although a bigger than expected hike to above 4.5% will serve to slow the pace of mortgage product rate falls from where they are today.
Question 3: What impact do you believe interest rates or the broader economic environment will have on the demand side of the buy-to-live and rental markets?
A shift to a higher interest rate environment is likely to weigh down on house price growth. While we don't necessarily think that house prices will fall this year, higher mortgage rates than we've become accustomed to will mean slower price growth in the medium term. On the other hand, higher rates will be inflationary for rental markets, as landlord's increased (mortgage and running) costs are at least partially passed on in the form of higher rents.
Question 4: From your standpoint are you seeing any impact on the supply side (stock of rentals and stock properties available for purchase) of the real estate market due to the aforementioned issues?
​Rising rates have done their job in slowing the market, meaning the number of homes on both the sale and rental markets has crept up from late 2021/early 2022 lows over the last couple of months. However the numbers of homes on the market (both for sale and rent) remains around 30% below typical 2019 levels, which in turn has supported prices.
Question 5: How are rental rates trending given the current environment, and what are your expectations for the future? What are the trends supporting your view?
While rising rates have added to landlord's costs, investors have also faced an increasingly harsh tax and regulatory environment. Landlords' inability to fully offset mortgage costs at a time when rates have risen sharply, coupled with the likely loss of Section 21 eviction grounds, has made buy-to-let less attractive for some investors. And fewer landlords always means higher rents.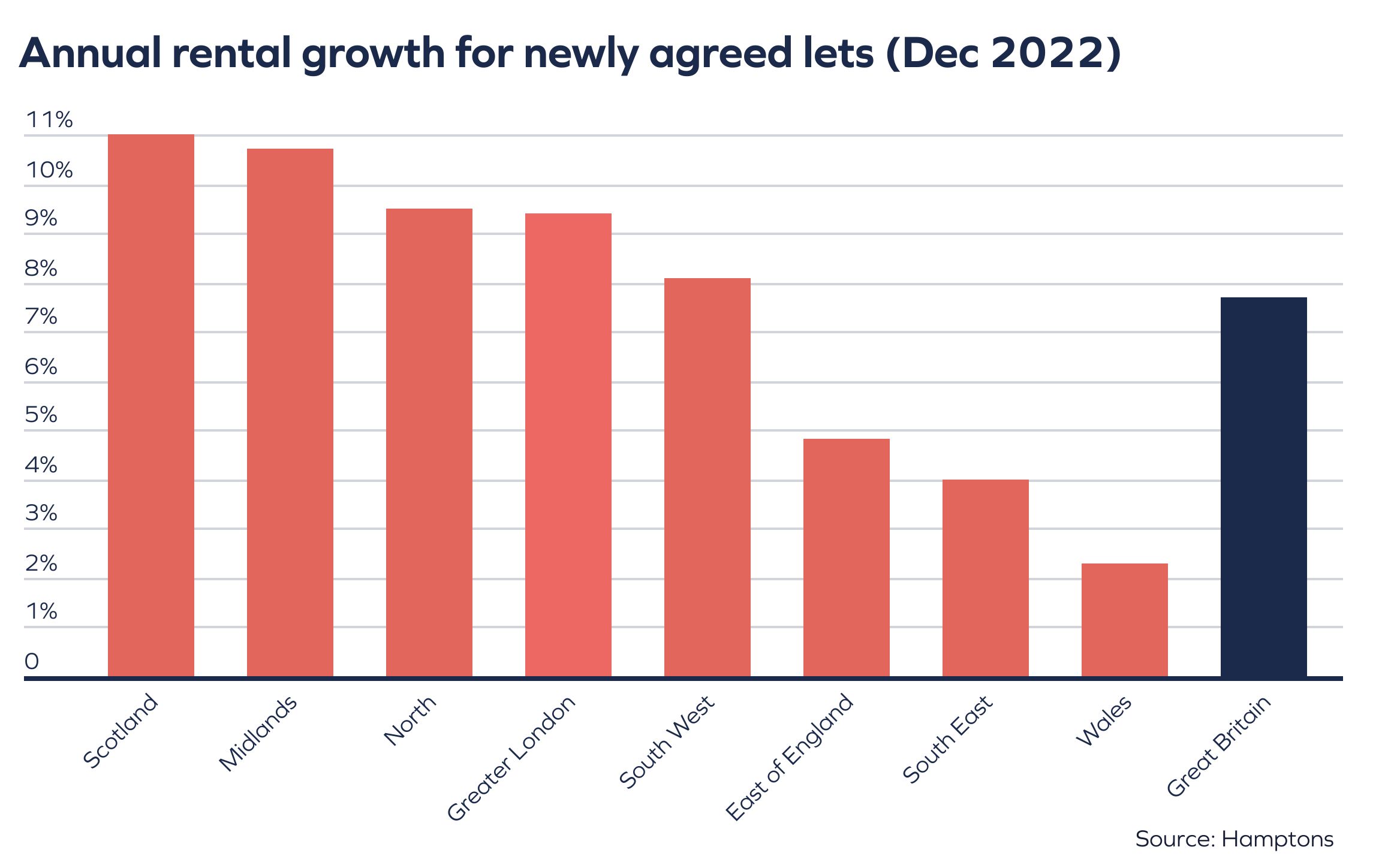 Annual Rent Growth - UK
Source: Hamptons Research
​
Question 6: How are property prices trending and what are your expectations for future prices? What are the trends supporting your view?
​House price growth fairly quickly ground to a halt as mortgage rates rose. And this is slowly being reflected in the official house price indices (which are starting to slow). However mortgage rates have since fallen back to below the level that we'd expect them to materially push prices downwards, meaning we're not expecting any significant falls this year. The level at which rates settle at longer term is likely to be higher than the recent pre-pandemic average, which will moderate medium term growth.
Question 7:  Are you seeing any new demand patterns forming among renters and buyers as a result of the cost-of-living crisis. For example, are renters seeking smaller spaces, looking for shared spaces, going further away from cities?
A number of Covid induced changes began to unwind in late 2022 and early 2023, with migration out of cities slowing sharply and demand for smaller homes bouncing back strongly. It's likely that we're now pretty close to finding a 'new normal', with a more permanent balance between working from the office and home established.
Question 8: Are you noticing any new supply side issues as a result of the cost-of-living crisis?
In the short term typically the most cost-effective thing for struggling households to do is sit tight, which is why the number of people moving home tends to fall during downturns. As a result we expect the number of homes coming onto the market in 2023 to remain below long term averages and moves to be dominated by 'the three Ds' - death, debt and divorce - typically the strongest drivers of moves.
Question 9: There has been a lot of talk lately (particularly on social media) about a decline in the stock of private rentals due to a decline in buy-to-let participants. Are you seeing this trend, and can you tell us your view about how this market might evolve?
There are fewer privately rented homes today than there were in 2017 despite fairly strong population growth. Higher taxes have only partially been offset by higher rents, while an ageing landlord demographic has begun to hang up its keys. Large build-to-rent developers have started to fill the gaps they've left behind, but they still only account for around 2% of the market.
Question 10: Can you speak to any noticeable regional trends in the rental and buy-to-live markets?
Higher interest rates mean investors need to put down increasingly large deposits across the south of the country where mortgage rates are typically higher than yields. While across London and the South East, 50% deposits are becoming increasingly common, there are now just a handful of areas in the North of England that buy-to-let still works with what was a very common 25% deposit.
Question 11: As we approach a new fiscal year, can you speak to any new or recent regulations or tax initiatives that property owners should be looking out for?
The biggest shakeup of the private rented sector in years is currently winding its way through parliament. Before the next election we're likely to see the introduction of rolling tenancies with no end date, a mandatory EPC rating of at least C for all rented homes (with a few exceptions) and the ending of Section 21 grounds, the so -called 'no fault' eviction.
Question 12: Finally, what should property owners and landlords consider as they seek to manage the challenges? Should they be looking to sell properties now, buy, or wait? Are there any particular niches that are presenting good buying opportunities?
We're 16 years on from the end of the last house price cycle, and it's likely that the shift towards higher interest rates will mark the close of the current cycle. The tail end of a house price cycle usually sees the gap between prices in London and everywhere else narrow, and we're probably now at the point where the gap has closed as far as it's going to. While price growth is likely to remain low, we expect prices to rise faster in the capital than the rest of the country over the coming years.
Follow Up Comments
In light of the fact that there is some concern about a possible recession in 2023, our team at DocEndorse followed up with David for his take on this issue, and the potential for a pass-through to real estate markets. David outlined that in his view, the key determinant of whether we will see a recession in 2023 or not is monetary policy rates. In a scenario where policy rates remain below 5%, economic conditions is expected to remain positive, and any recession that may come would be mild. On the other hand, if policy rates were to rise above 5%, the economy is expected to go into a recession, with a significant negative pass-through to real estate markets, as the cost of servicing mortgage debt further stretches already tight consumer budget constraints.
Final Remarks
As we take a step back from, amalgamate, and take a bird's eye view of all the information that we have been provided, there are a few themes that stand out. Yes, there are issues in the real estate market that warrant closer attention, and yes there will be challenges in the near term. On the other hand, there are early signs that the recent market volatility will likely continue to subside. There are also opportunities to be had if one take a more regional approach to the property market.
For those individuals who are operating businesses in the real estate space, DocEndorse has tools that can help you to offset your costs or boost your top line. By ruthlessly pursing operating efficiency, providing more value to your customers, and speeding up your sales funnel you will be adequately positioned to manage any difficult scenario. Take a look at our  report "Small Business Owners Should Put These Things On Their To Do List Before It Is Too Late" which outlines what small to medium sized businesses can do in a recession. Contact our sales team we're here to help.
David can be contacted at  FellD@hamptons.co.uk